This is an old revision of the document!
---
Badgers Wiki
Badgers, the location based massive multiplayer online game, about collecting badges, Quadrants and Regions.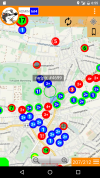 You find the App on Google Play!
As a major part of the game, every player acts both as a producer, designer and Collector/Collecting of various types_of_badges.
This wiki is for
Have fun and do not miss our Homepage.
For the following places you need to ask for access, knock knock:
For those who care: why Badgers.